UPM Biochemicals has selected Dongsung Chemical as sole distributor of its bio-monoethylene glycol (BioMEG) UPM BioPura™ in Korea. This further strengthens the development partnership between the two companies that was announced last year. By adding UPM to its supplier network, Dongsung enhances the sustainability transformation of its portfolio and supports the evolution of the chemical industry in Korea overall to become more sustainable.
Through this partnership, UPM will access the large and attractive Korean MEG market with a size of roughly two thirds of the European Union's MEG market.
UPM Biochemicals has already established various industry partnerships across the automotive, fashion and packaging industry, which enable the vital shift away from fossil-based to renewable materials.
 "Expanding the partnership with Dongsung Chemical is another major milestone in bringing our renewable chemicals to market and in establishing an entirely new category of high value sustainable chemicals. We will continue to collaborate in the development of alternative solutions for a large variety of customer segments in the Asian shoe and textile markets," says Michael Duetsch, Vice President Biochemicals at UPM. "Over the past few years, Dongsung Chemical has taken a leading role in advancing sustainable customer solutions. We are very happy to be able to now also rely on their experience, enthusiasm and vision to promote our innovative materials in the large Korean glycols market."
ManWoo Lee, CEO of Dongsung Chemical added, "Our partnership with UPM enables us to supply wood-derived biomass raw materials in Korea. We are committed to reducing carbon emissions and enhancing ESG management by assisting partners in developing environmentally friendly products using UPM's bio-monoethylene glycol."
UPM invests EUR 1,180 million to build the world's first industrial scale biorefinery in Leuna, Germany. In Leuna, UPM will convert sustainably sourced, certified hardwood into next generation biochemicals that will enable the vital shift away from fossil-based to renewable materials across a wide range of industries. The Leuna biorefinery is part of a broader growth area, UPM Biorefining, focused on scaling refineries producing a variety of renewable fuels and chemicals made from sustainable biomass.
UPM's BioMEG BioPura™ is produced from hardwood obtained from forests in the regions around Leuna in Germany. The biomass does not compete with food resources, and UPM is achieving a climate neutral1 BioMEG from day one while going beyond zero in the future with additional reduction measures.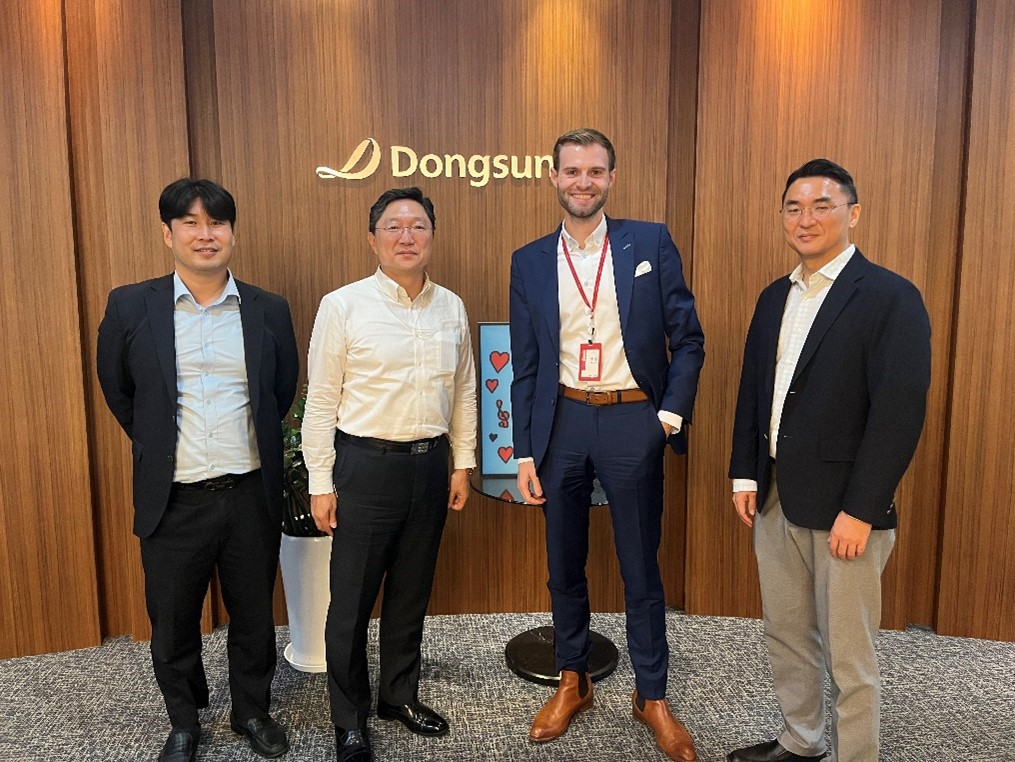 UPM selects Dongsung Chemical as sole Korean distributor of its new bio-based MEG. (Picture: UPM)
In the picture from left to right: Benedict Kim (Team Leader Bioplastic, Dongsung Chemical), Seongwon Cho (Head of Business D&I, Dongsung Chemical), Marvin Strüfing (Sales Director BioGlycols, UPM), Kenneth Kim (Director Bioplastic, Dongsung Chemical)
1 from cradle to gate considering biogenic carbon from our feedstock and purchasing green electricity
For further information please contact:
Martin Ledwon, Vice President Stakeholder Relations UPM Biorefining & Technology, martin.ledwon@upm.com
UPM, Media Relations
Mon-Fri 9:00-16:00 EEST
tel. +358 40 588 3284
media@upm.com
UPM Biochemicals
UPM Biochemicals offers innovative, sustainable and competitive wood-based biochemicals for replacing fossil-based raw materials and improving the environmental performance in various applications. End-use segments for renewable glycols include textiles, PET bottles, packaging, coolants, composites, pharmaceuticals, cosmetics and detergents. Lignin-based Renewable Functional Fillers (RFF) offer a sustainable alternative to carbon black and precipitated silica in a broad range of rubber and plastic applications. UPM is building an industrial scale biorefinery in Leuna, Germany to convert solid wood into next generation biochemicals. www.upmbiochemicals.com
Follow UPM Biochemicals on LinkedIn. #upmbiochemicals #beyondfossils
UPM
We deliver renewable and responsible solutions and innovate for a future beyond fossils across six business areas: UPM Fibres, UPM Energy, UPM Raflatac, UPM Specialty Papers, UPM Communication Papers and UPM Plywood. As the industry leader in responsibility, we are committed to the UN Business Ambition for 1.5°C and the science-based targets to mitigate climate change. We employ 17,200 people worldwide and our annual sales are approximately EUR 11,7 billion. Our shares are listed on Nasdaq Helsinki Ltd. UPM Biofore – Beyond fossils. www.upm.com
Dongsung Chemical
Dongsung Chemical produces essential materials for our daily life using chemistry technology. From chemicals to footwear, automotive, packaging, building and construction materials, we offer a wide product portfolio. We are enhancing our competitiveness in both domestic and global markets through the development of eco-friendly, high-performance materials.