UPM Biochemicals and Central Saint Martins (CSM), University of the Arts London (UAL), are embarking on a ground-breaking design collaboration to demonstrate how multiple industries can make the urgent shift to renewable, circular materials in their products.
UPM Biochemicals is developing new, climate neutral materials produced from sustainably sourced hardwood that will replace fossil-based materials in multiple applications – from footwear and fashion to furniture and automotive.
A team of 50 Product and Industrial Design students from Central Saint Martins are tackling a brief to use the materials in radical design solutions – to demonstrate that there are "no excuses" for industries not to shift their supply chains towards renewable circularity – to use less, source from renewable sources, and ensure the product can remain in the value chain after its useful life.
"We need to embrace radically new concepts and reconsider how brands can establish sustainability as a brand value and aim for true CO2-neutrality" said Martin Ledwon, Vice President, Stakeholder Relations, UPM Biorefining & Technology. "They need to lead the transformation. But a net zero circular economy is only feasible if we work together across value chains. That is why we are prototyping a world beyond fossils with Central Saint Martins, proving it's possible and scalable to reduce supply chain emissions, now. Breaking down barriers - and excuses."
The designs will be evaluated by a team of expert judges for their design quality, contribution to renewable circularity, commercial viability and their potential to disrupt conventional thinking in multiple industries.
"We want this project to demonstrate what can be achieved when the sustainable creativity of one of the world's finest design schools meets the creative sustainability of one of the world's leading producers of fossil-free renewables to explore and unlock the power of renewable circularity across the product design and manufacturing industry," said Paul De'ATH, Course Leader, BA Product and Industrial Design, Central Saint Martins. "Design has the power to transform people, products or even enterprises. We believe through design and the right partnerships, we can help solve looming issues, and in doing so create a better world."
UPM is operating a biorefinery for the production of advanced biofuels and renewable naphtha in Lappeenranta, Finland. The company is further investing 750 million Euros to build the world's first industry scale biorefinery in Leuna, Germany, to convert sustainably sourced, certified hardwood into next generation biochemicals that will enable the vital shift away from fossil-based to renewable materials across a wide range of industries. The biorefinery aims to produce 220,000 tonnes annually in total, with start-up targeted to take place by the end of 2023. A potential investment in a second biorefinery for the production of advanced biofuels and renewable materials, located at the Port of Rotterdam in the Netherlands, is currently under investigation.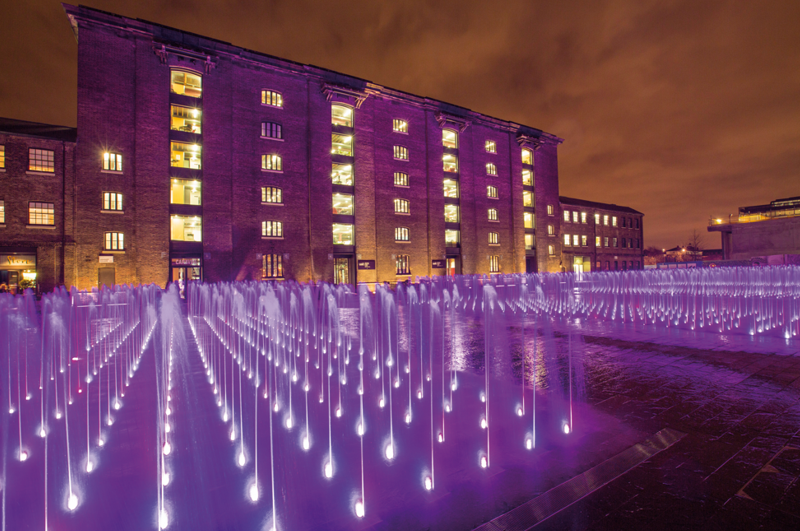 UPM and Central Saint Martins, University of the Arts London, partner to prototype a "fossil free future". (Picture: UAL)
For further information please contact:
Martin Ledwon, Vice President, Stakeholder Relations, UPM Biorefining & Technology, martin.ledwon@upm.com
UPM, Media Relations
Mon-Fri 9:00-16:00 EEST
tel. +358 40 588 3284
media@upm.com
UPM Biochemicals
UPM Biochemicals offers innovative, sustainable and competitive wood-based biochemicals for replacing fossil-based raw materials and helping to improve the environmental performance in various applications. End-use segments for renewable glycols include textiles, PET bottles, packaging, coolants, composites, pharmaceuticals, cosmetics and detergents. Lignin-based Renewable Functional Fillers (RFF) offer a sustainable alternative to carbon black and precipitated silica in a broad range of rubber and plastic applications. UPM is building an industrial scale biorefinery in Leuna, Germany to convert solid wood into next generation biochemicals. UPM Biochemicals is accelerating the transition to a circular bioeconomy – where renewable feedstocks, sustainable production and sustainable consumption are the new normal. www.upmbiochemicals.com
Follow UPM Biochemicals on LinkedIn | #UPMbiochemicals
Central Saint Martins, University of the Arts London
Across art, design, and performance the students and staff of Central Saint Martins create ideas, materials and actions for a better future.  Among our alumni shaping the world through creative action are Campbell Addy, Miles Aldridge, Grace Wales Bonner, Jarvis Cocker, Isamaya Ffrench, Antony Gormley, Craig Green, Isaac Julien, Jean Jullien, Ib Kamara, Afroditi Krassa, Rene Matić, Stella McCartney, Alexander McQueen, Morag Myerscough, Saul Nash, Simone Rocha, Zineb Sedira and Yinka Shonibare.
Central Saint Martins is part of University of the Arts London (UAL)
www.arts.ac.uk/csm Twitter Instagram LinkedIn
University of the Arts London
University of the Arts London (UAL) offers an extensive range of courses in art, design, fashion, communication and performing arts. Our graduates go on to work in and shape the creative industries worldwide. UAL is ranked second in the world for Art and Design in the 2023 QS World University Rankings by Subject ®. 
The University has a world-class reputation and is made up of 6 equally renowned Colleges and 5 institutes: Camberwell College of Arts, Central Saint Martins, Chelsea College of Arts, London College of Communication, London College of Fashion, Wimbledon College of Arts, AKO Storytelling Institute, UAL Creative Computing Institute, UAL Decolonising Arts Institute and UAL Fashion, Textiles and Technology Institute.
UPM
We deliver renewable and responsible solutions and innovate for a future beyond fossils across six business areas: UPM Fibres, UPM Energy, UPM Raflatac, UPM Specialty Papers, UPM Communication Papers and UPM Plywood. As the industry leader in responsibility, we are committed to the UN Business Ambition for 1.5°C and the science-based targets to mitigate climate change. We employ 17,000 people worldwide and our annual sales are approximately EUR 11,7 billion. Our shares are listed on Nasdaq Helsinki Ltd. UPM Biofore – Beyond fossils. www.upm.com
Follow UPM on Twitter | LinkedIn | Facebook | YouTube | Instagram | #UPM #biofore #beyondfossils